Cheers for Chic Chickadee Crafts who is sponsoring Die Cut Divas this month of March. The challenge is an ANYTHING GOES challenge, so be your creative self and make what you want, need or desire to do, but be sure to use dies and/or embossing folders in your creations.
REMEMBER YOU MUST USE A DIE-CUT OR EMBOSSING FOLDER FROM YOUR DIE CUT MACHINE IN ORDER TO QUALIFY TO ENTER THE CHALLENGE.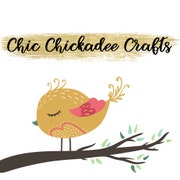 What a wonderful shop to offer to you, our

blog readers a 20% off coupon for the month of March (Code DIECUTDIVAS20). This is a brand new sponsor for our blog, so please be sure to visit Chic Chickadee Crafts to see what products you might like.
The prize is a $20 gift certificate!
I had pre-colored some Chic Chickadee coffee cups and wanted to share how I used them. I just needed to choose papers for some tags and also a card. I recently purchased some papers from Stampin' Up and I was more than eager to try them out.
I also wanted to use some banner dies which have sat unused for quite some time. Below is the result of banner die-cuts and coffee cups.
Card below.
I sent this card off to a friend and hope it gets through all the borders.
Have fun stamping.
Arlene with the Die Cut Divas