Cheers for Chic Chickadee Crafts who is sponsoring Die Cut Divas this month of March. The challenge is an ANYTHING GOES challenge, so be your creative self and make what you want, need or desire to do, but be sure to use dies and/or embossing folders in your creations.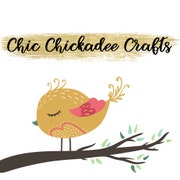 What a wonderful shop to offer to you, our blog readers a 20% off coupon for the month of March (Code DIECUTDIVAS20). This is a brand new sponsor for our blog, so please be sure to visit Chic Chickadee Crafts to see what products you might like.
The prize is a $20 gift certificate!

Here is my project-
This blue and brown color combo is one of my favorites, and perfect for a coffee themed card.
For more information on this card, please join me at Just a Nutter Paper Crafter.