Cheers for Chic Chickadee Crafts who is sponsoring Die Cut Divas this month of March. The challenge is an ANYTHING GOES challenge, so be your creative self and make what you want, need or desire to do, but be sure to use dies and/or embossing folders in your creations.
REMEMBER YOU MUST USE A DIE-CUT OR EMBOSSING FOLDER FROM YOUR DIE CUT MACHINE IN ORDER TO QUALIFY TO ENTER THE CHALLENGE.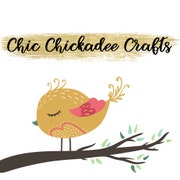 What a wonderful shop to offer to you, our

blog readers a 20% off coupon for the month of March (Code DIECUTDIVAS20). This is a brand new sponsor for our blog, so please be sure to visit Chic Chickadee Crafts to see what products you might like.
The prize is a $20 gift certificate!
Our DTs chose to work with the digital images in the Chic Chickadee Crafts shop.
Michelle used Hug in a Mug for her project-
Cindy
uses one of the images from Farm House for her zesty card.
Dawn has used Sugartree Party Animals (unfortunately no longer available)
Annie
also used Hug in a Mug. Creating a Slimline card.