A big Thank You to Chic Chickadee Crafts , our Die Cut Divas sponsor this month. The challenge is an ANYTHING GOES challenge and you have until 9:00 p.m. Pacific time to make what you want, need or desire to do, but be sure to use dies and/or embossing folders in your creations.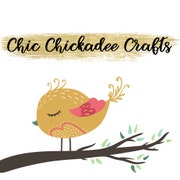 You wonderful blog readers also have the chance to use a
20% off coupon for the month of March (Code DIECUTDIVAS20) and it ends today. This is a brand new sponsor for our blog, so please be sure to visit Chic Chickadee Crafts to see what products you might like.
Our Divas will leave you with a bit of inspiration on this last day of March.
Arlene went for a couple baskets of apples and has a short tutorial on using Word to add your sentiment directly on top of another image at
A Bit of This and That
. I really am a neophyte with handling images, but this works for me.
Renee' used the same elephant image to create background paper as well as a focal image by resizing and layering. Digital stamps offer lots of freedom in size and orientation. She has a video tutorial on this card over at Delaney Jane Cards.
Monika made a card full of flowers for Mother's Day
Dawn has used the Sugartree stamps "Hug in a Mug"